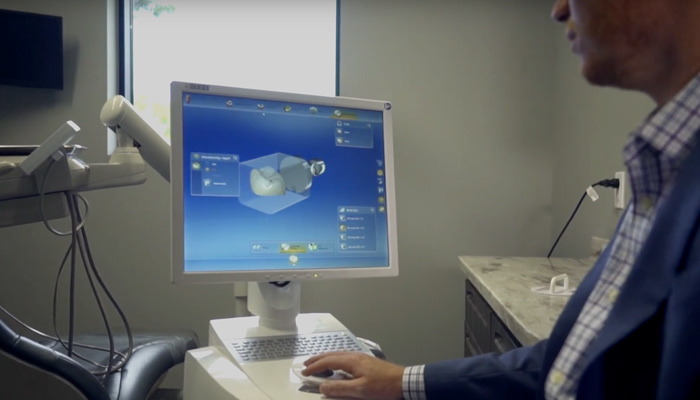 The surgery is nowhere near as scary as people think it is. People think they're going to be very, very sore for a very, very long time. Our average patient takes ibuprofen once.
Have you recently lost one or more teeth? If so, Dr. Habecker may recommend dental implants to restore the full function and appearance of your smile.
A dental implant is a prosthetic tooth root that's inserted into the jawbone. It then acts like a natural tooth root to support an abutment and crown.
Here's what else you need to know about dental implants.
Candidates for Dental Implants
To be a candidate for dental implants, you need healthy gums and enough bone density in your jaws. That way, your dental implants will have enough support in the jawbone. Remember that the implant must be stable to act as the foundation for the abutment and crown.
It's also preferable that you be a non-smoker. This is because smoking inhibits your body's healing ability after dental implant surgery.
Here's what one of our patients has to say about his experience with Macatawa Smiles.
If you're looking for a dentist that has a caring staff, a modern facility, and a lot of technology, you need to visit Dr. Brenton.
Please keep in mind that each patient is different. For example, Dr. Habecker may recommend a bone graft if you need to build up the jawbone to support an implant.
You won't know for sure if you're a candidate until you schedule a consultation with Dr. Habecker.
Dental Implant Process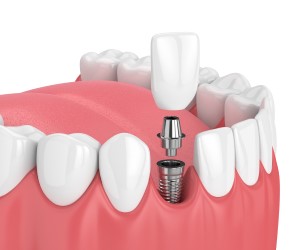 The traditional takes a few months. During the initial procedure, Dr. Habecker will make an incision along the gums. Next, he'll insert the implant into your jawbone.
Over the next several months, the implant will fuse to your jawbone. This is a process called osseointegration. During this time, Dr. Habecker will check your progress to ensure you're healing well.
Once the implant has made a strong connection with your jaw, you'll be ready for the next step. Dr. Habecker will place the abutment and crown over top of your implant.
The crown is what gives you the function and appearance of a natural tooth. The abutment is the connector piece between the crown and your dental implant.
Medical Benefits
Your teeth are supported by their roots, the gums, the jawbone, and other teeth. When you lose a tooth, the teeth surrounding the gap begin to tilt toward the open space. Your body will also start to absorb the minerals in your jaw to use elsewhere.
If left untreated, jawbone deterioration can lead to a condition called facial collapse. This gives the patient a sunken facial profile, which can make them look older. Jaw shrinkage may also make wearing dentures difficult or uncomfortable.
Since dentures sit on top of your gums, they don't solve the problem of jawbone deterioration. But dental implants do. That's why we often recommend dental implants to replace missing teeth.
Unlike dentures that slip, dental implants have fused to the jawbone. This provides the ultimate stability as the patient eats, speaks, and chews.
Mental Health Benefits
Your mental health is just as important as your dental health. Often, patients will feel self-conscious about missing teeth which may affect their behavior.
For example, a patient may cover their mouth while they laugh or smile with their lips closed. These small actions add up over time and can lower a patient's self-esteem.
The good news is that we can replace any tooth with a dental implant. This includes front teeth in the smile zone.
Dental implants look and feel like natural teeth so you can smile with confidence. After all, you deserve to show off your smile to the world!
Schedule an Appointment With Dr. Habecker
Dr. Brenton Habecker is an experienced dental implant dentist in Holland, MI. As such, he'd be more than happy to help you explore your tooth replacement options.
New to our dental practice? We love new patients and are available to answer any questions you may have before your first appointment with us.
Here's what one patient has to say about Dr. Habecker and his team.
I used to hate the dentist. Here, it's great. It feels like just another visit. I love the people.
To request an appointment, please call Macatawa Smiles at (616) 396-7524. You may also fill out our online contact form and someone from our office will reach out to you soon.
---
Learn More About Dental Implants