Dental Implant FAQ's
https://www.macatawasmiles.com/wp-content/uploads/2018/02/dental-implant-faq.jpg
900
900
Macatawa Smiles
Macatawa Smiles
https://www.macatawasmiles.com/wp-content/uploads/2018/02/dental-implant-faq.jpg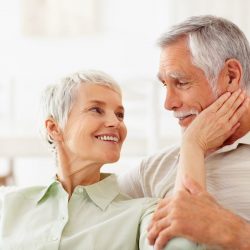 If you have ever felt self-conscious about missing teeth, you owe it to yourself to schedule an appointment with our dental implant dentist at Macatawa Smiles. Not only do dental implants give you the function and appearance of natural teeth, but they can also improve your confidence.
Continue reading to learn more about the
and whether you'd be a likely candidate for the procedure.
What is a dental implant?
A dental implant is a titanium-alloy screw inserted into your jawbone that functions much like a natural tooth root. Once the implant successfully fuses with your jawbone tissue, it will be able to support an abutment and implant crown.
The
(combined with the abutment and crown) gives you the look and function of a natural tooth. If you have recently lost a tooth, you may want to consider a dental implant to prevent further tooth loss.
What happens during the dental implant process?
It's important to understand that the dental implant procedure takes several months. During your first appointment, your dentist will insert the implant into your jawbone. Over the next several months, your jawbone will heal and fuse to the dental implant in a process called osseointegration. Once this happens, your dentist will be able to screw an abutment into the implant that will later support the dental implant crown.
Who can get dental implants?
You must have healthy jawbone tissue to be a candidate for dental implants. If the jawbone tissue is too soft or thin, the dental implants won't be stable enough for the procedure to work. In this scenario, your dentist may recommend you get a bone graft for dental implants. Since the dental implant process involves surgery, you'll also need a healthy immune system.
What are the benefits of dental implants?
Missing teeth affect how you eat as well as your ability to talk and smile with confidence. Fortunately, many of our patients report having better confidence after getting dental implants. Not only do implants allow you to eat an unrestricted diet, but you also don't have to worry about slipping dentures. Dental implants are secured into your jawbone so they look and feel natural.
What affects the cost of dental implants?
The cost of dental implants is affected by whether you need a bone graft and how many teeth you wish to replace. For example, a single tooth implant typically costs less than if you decided to have multiple teeth replaced. If you need a bone graft to support an implant, this will also affect the cost and add to your treatment time.
How do I take care of dental implants?
Dental plaque and tartar can build up on dental implants if you don't maintain a good oral hygiene routine. To maintain a healthy smile, you'll need to brush your teeth twice a day and floss once daily. In other words, care for your dental implants like you would natural teeth. We also recommend you see your dentist every six months for a dental cleaning.
Call Macatawa Smiles Today!
Dr. Brenton Habecker and his team at Macatawa Smiles are dedicated to helping you maintain good oral health. To request an appointment with our , call (616) 396-7524.
This blog post has been updated.