What are the Benefits of Teeth Bonding?
https://www.macatawasmiles.com/wp-content/uploads/2018/10/what-are-the-benefits-of-teeth-bonding-dentist-holland-mi.jpg
900
900
Macatawa Smiles
Macatawa Smiles
https://www.macatawasmiles.com/wp-content/uploads/2018/10/what-are-the-benefits-of-teeth-bonding-dentist-holland-mi.jpg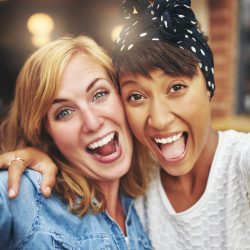 Dental bonding is the process of applying a dental resin to your teeth, which is then hardened by using an LED light. The process is minimally invasive, and commonly used for:
Chipped teeth
Cracked teeth
Small gaps between front teeth
Tooth discoloration
Irregularly-shaped teeth
If you've ever felt self-conscious about your smile, teeth bonding might be the easiest and most convenient cosmetic option for you. Dr. Habecker will be able to discuss the pros and cons of dental bonding so you can make the best decision for your oral health. Unlike other cosmetic procedures, teeth bonding only takes one visit to our dental office.
Here's what you need to know about teeth bonding.
Does Dental Bonding Require Anesthesia?
No, a cosmetic bonding procedure does not require dental anesthesia.
Since teeth bonding is a non-invasive dental procedure, many of our patients don't need pain relievers. However, each patient is different. If you feel slight discomfort during the procedure, let our dentist know so he can locally anesthetize the area.
During the procedure, our dentist will apply a
to the surface of your teeth to fix chips, cracks, discoloration, and other minor cosmetic issues.
This bond is incredibly strong and can last up to 10 years as long as you practice good oral hygiene.
How Invasive is the Teeth Bonding Procedure?
Teeth bonding is minimally invasive because our dentist doesn't have to remove tooth enamel to restore your smile. This makes cosmetic bonding different from other procedures, such as porcelain veneers or dental crowns.
During the veneers process, our dentist has to remove enough enamel so the veneers don't make your teeth look bulky. Even more, enamel has to be removed if you need a dental crown so the restoration can fit over your tooth.
Many of our patients appreciate that
lets them keep as much natural tooth structure as possible. Once enamel is gone, it doesn't grow back.
How Much Time Will I Spend in the Dentist's Chair?
Instead of waiting weeks for a cosmetic restoration like veneers to be made in an off-site lab, our dentist is able to apply tooth-colored resin directly to your teeth.
Many of our patients are interested in teeth bonding for gaps so they can smile with confidence. Gaps in teeth often seem uncorrectable or something people have to live with, but with dental bonding that's often not the case. If you have , you may be able to correct your smile in one appointment.
Likewise, dental bonding is also able to fix small chips, cracks, and discoloration. If you're someone who has discolored teeth from years of drinking coffee and wine, custom whitening trays or dental bonding might be the right choice for you.
In comparison, porcelain veneers require two trips to the dentist spaced weeks apart. During your first procedure, we would have to file down some of your enamel and then send impressions to a veneers lab. For your second appointment, we would then apply the permanent dental veneers to the fronts of your teeth.
Due to veneers needing to be created in the lab, you are forced to wait until you can enjoy your new beautiful smile. Cosmetic bonding requires no waiting period, which is one of the added benefits that people really enjoy.
Is Dental Bonding an Affordable Smile Makeover?
Yes! Dental bonding is an
.
Teeth bonding can fix minor cracks or chips in your smile for less than the cost of veneers or crowns. However, keep in mind that you get what you pay for. While dental bonding can last up to 10 years, it typically lasts between 3-5 years, while porcelain veneers have a better chance of lasting up to 10 years.
If you're unsure what dental treatment is right for you, we recommend scheduling a consultation with our cosmetic dentist.
Schedule an Appointment With Dr. Habecker
Dr. Habecker and his team are dedicated to helping you achieve your best smile through dental bonding and other cosmetic procedures. To schedule an appointment with our Holland cosmetic dentist, feel free to call Macatawa Smiles at (616) 396-7524 or contact us online!
This blog post has been updated.