Why Pregnant Women Still Need to See the Dentist
https://www.macatawasmiles.com/wp-content/uploads/2021/03/pregnancy-dentist-holland-mi.jpg
300
300
Macatawa Smiles
Macatawa Smiles
https://www.macatawasmiles.com/wp-content/uploads/2021/03/pregnancy-dentist-holland-mi.jpg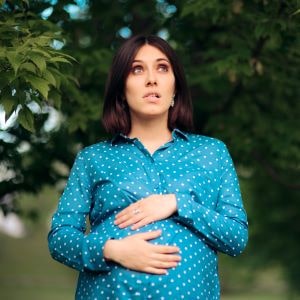 Going to the dentist while pregnant is just as important as seeing your obstetrician.
Studies show that pregnant women have a higher risk of gum disease than women who are not expecting. Hormonal changes also increase your risk for sore gums and sensitive teeth.
Here's what you need to know about receiving dental care while pregnant.
Safety Concerns
Please let our dentist know if you're pregnant or suspect you may be pregnant. Dr. Habecker and his team will take the proper precautions to ensure the safety of both you and your child.
A dental checkup and teeth cleaning are safe at any point of your pregnancy. But you'll want to avoid major procedures during the first trimester. The only exception might be if you need urgent dental care and/or there's a risk of infection.
We also want to put your mind at ease about dental X-rays.
The American Dental Association and the American Congress of Obstetricians and Gynecologists both agree that dental X-rays are safe during pregnancy.
The amount of radiation exposure is very low and won't affect your child's development in the womb. We'll also cover your abdomen with a protective lead apron while taking X-rays.
We'll take every precaution to keep you and your baby safe during your appointment. For example, our office uses digital dental X-rays. This exposes you to 80% less radiation than if we used traditional film-based X-rays.
Hormonal Changes and Gingivitis
According to WebMD.com,
develop gingivitis. This may be due to a higher level of progesterone that makes it easier for bacteria to grow in the mouth.
As a result, you may notice that your gums bleed, are swollen, or feel tender. These are all signs of pregnancy gingivitis.
The good news is that gingivitis is reversible by practicing good oral hygiene. You'll also need to continue seeing our dentist for preventive care.
For more information, check out our blog post that offers 5 tips for preventing gum disease.
Benign Pregnancy Tumors
It's also not uncommon for pregnant women to get benign mouth tumors. But there's no reason to feel alarmed as these tumors aren't cancerous.
A pregnancy tumor is a swollen tissue overgrowth between your teeth. It may look raw and have a strawberry-like texture.
In general, women may experience pregnancy tumors during the second trimester. But you may develop them at any point during the pregnancy.
About
develop these benign tumors. You may also have a higher risk of getting pregnancy tumors if you also have gingivitis.
Pregnancy tumors usually disappear on their own after you give birth.
Morning Sickness and Tooth Decay
Did you know that morning sickness increases your risk of tooth decay? Vomiting increases acid in the mouth, which weakens tooth enamel over time.
After vomiting, wait 30 minutes to brush your teeth. That way, your enamel has enough time to recover after being exposed to acid.
Our dentist can determine whether your morning sickness is affecting your oral health. Dr. Habecker may also suggest ways to improve your oral hygiene routine at home so you can lower your risk of cavities.
Conclusion
Many women don't experience any oral health issues during pregnancy. But each patient is different.
Sometimes hormonal changes can aggravate certain medical conditions. For example, if you have gum disease, your symptoms may worsen during pregnancy.
That's why it's important that you let us know if you're pregnant or think you might be pregnant. We'll take extra precautions to ensure the health and safety of you and your baby.
Request an Appointment With Us
Dr. Brenton Habecker is an experienced family dentist in Holland, MI. As such, he treats patients of all ages during all stages of life, including pregnancy. To schedule an appointment with Dr. Habecker, call Macatawa Smiles at (616) 396-7524.